Year in Review
The 'ACL Year in Review 2017-18′ report is now available. This report, produced each year, describes the key policy, education, compliance and enforcement activities undertaken by Commonwealth and State and Territory consumer agencies, who work co-operatively to help improve outcomes for consumers across Australia.
Find out about your rights as a consumer and how the Australian Consumer Law can offer you protection as a consumer.
Find out what standards are covered in the Australian Consumer Law and what you need to do as a business to uphold those standards.

The Government is reviewing the Retail Grocery Industry (Unit Pricing) Code of Conduct (the Code). The Code requires certain grocery retailers to use unit pricing when selling particular grocery items to consumers in addition to the selling price.
Unit pricing allows consumers to compare between different brands and sizes of grocery items using common units of measure.
The Government will assess the effectiveness of the Code through the consultation and, if appropriate, remake the Code before its scheduled sunset date.
If you would like to contribute to the review or complete a short consumer survey please visit the consultation page.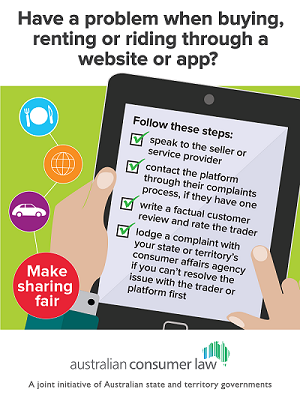 The national project 'Make Sharing Fair', implemented across Australian jurisdictions between 13 November and 24 December 2017, aimed to provide users of the sharing economy (consumers, traders and sharing economy platforms) with information about their ACL rights and responsibilities when engaging in trade and commerce using a sharing economy platform.
For more information, please visit the sharing economy platforms page.
Some companies charge customers a fee each time they send out a paper bill. The fee goes toward the cost of printing and posting the bill.
 If you don't want to be charged this fee, check out our advice for consumers.