Businesses and consumers should be aware that from 1 November 2019 new Australian Consumer Law gift card provisions will be in place. These new rules apply no matter where in Australia you are.
Find out about your rights as a consumer and how the Australian Consumer Law can offer you protection as a consumer.
Find out what standards are covered in the Australian Consumer Law and what you need to do as a business to uphold those standards.
The ACL provides consumers with a set of guarantees for the goods they buy, one of which is that they will be of 'acceptable quality.' Acceptable quality has a number of factors, including that the goods will be safe to use, and that they will be reasonably durable. The meaning of acceptable quality is considered by what a reasonable consumer fully acquainted with the goods would regard as acceptable.
These guidances will assist businesses when regarding whether a good is safe or durable by outlining the relevant elements to consider and providing examples of where goods may or may not be safe or durable.
Consumer Affairs Australia and New Zealand is currently consulting on options to improve the consumer product safety system, including the option to introduce a new safety duty (also referred to as a General Safety Provision) into the Australian Consumer Law.
Please visit the consultation page to make a submission and complete the consumer survey to have your say.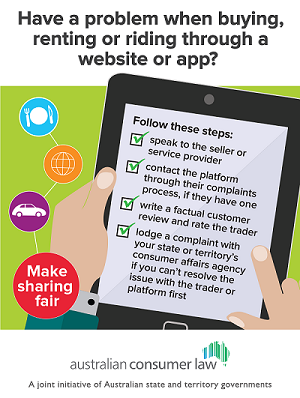 The national project 'Make Sharing Fair', implemented across Australian jurisdictions between 13 November and 24 December 2017, aimed to provide users of the sharing economy (consumers, traders and sharing economy platforms) with information about their ACL rights and responsibilities when engaging in trade and commerce using a sharing economy platform.
For more information, please visit the sharing economy platforms page.