The Australian Consumer Law Review Issues Paper [PDF 966KB | DOC 3.3MB] was released on 31 March 2016. Submissions to the Issues Paper closed on 27 May 2016. More than 160 submissions were received in response to the Issues Paper, including submissions marked as confidential. The chart below shows the breakdown of submissions received by organisation type (as a percentage).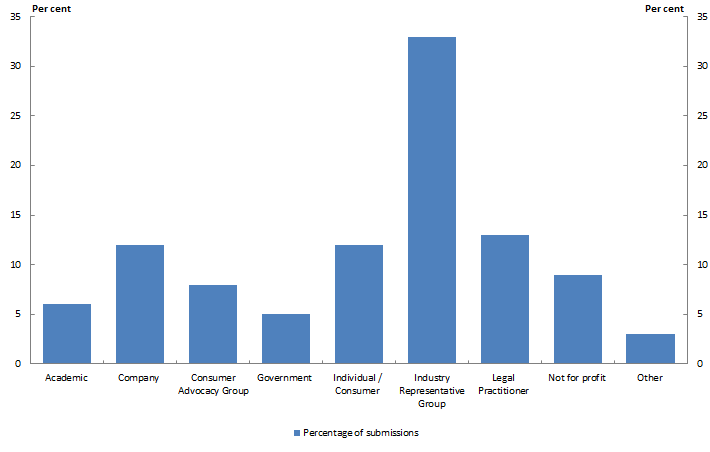 All non-confidential submissions are available below, listed alphabetically by stakeholder. The opinions expressed in the submissions are those of the authors and do not necessarily reflect the views of Consumer Affairs Australia and New Zealand or the ACL Review.
If you are having difficulty with accessing any of the submissions below please contact ACLReview@treasury.gov.au.
Submissions received
Accord Australasia – PDF 5MB
Advertising Standards Bureau – PDF 195KB
Airline Customer Advocate – PDF 608KB – RTF 412KB
Allens – PDF 530KB
Anonymous 4 – DOCX 24KB – PDF 130KB
Anonymous 1 – PDF 55KB
Anonymous 2 – PDF 559KB
Anonymous 3 – PDF 909KB
Arnold Bloch Leibler – PDF 507KB
Australian and New Zealand Ombudsman Association – PDF 813KB
Australian Association of National Advertisers – PDF 525KB
Australian Automotive Aftermarket Association – PDF 1MB
Australian Automotive Dealer Association – PDF 385KB
Australian Chamber of Commerce and Industry – PDF 379KB – RTF 473KB
Australian Charities and Not-for-Profits Commission – PDF 165KB
Australian Communications and Media Authority – PDF 557KB
Australian Communications Consumer Action Network – PDF 873KB
Australian Finance Conference – PDF 315KB
Australian Food and Grocery Council – PDF 319KB
Australian Furniture Removers Association – PDF 292KB
Australian Industry Group – PDF 576KB
Australian Institute of Architects – PDF 240KB – RTF 1007KB
Australian Institute of Company Directors – PDF 1MB
Australian Newsagents' Federation – PDF 573KB
Australian Retailers Association – PDF 381KB – RTF 2MB
Australian Small Business and Family Enterprise Ombudsman – PDF 94KB
Australian Tattooists Guild – PDF 702KB – RTF 8MB
Australian Toy Association – PDF 743KB – RTF 307KB
Baker & McKenzie – PDF 445KB
Bebbington, Bruce – PDF 190KB – RTF 53KB
Blums, Andris – PDF 140KB – RTF 35KB
Bonwick, Monte – PDF 42KB
Business Council of Australia – PDF 453KB
Cancer Council Queensland – PDF 125KB
Caravan Camping & Touring Industry & Manufactured Housing Industry Association of NSW – PDF 281KB
Caravan Industry Association of Australia – PDF 1MB
Chalmers, Alan – PDF 8MB
Chartered Accountants Australia and New Zealand – PDF 150KB
CHOICE – PDF 1MB
Clarke, Philip H – PDF 597KB – RTF 307KB
Commercial and Property Law Research Centre, QUT – PDF 484KB
Commercial Vehicle Industry Association of Australia – PDF 269KB – RTF 56KB
Communications Alliance – PDF 569KB
Community Council for Australia – PDF 890KB – RTF 2MB
Consult Australia – PDF 663KB
Consumer Action Law Centre – PDF 951KB
Consumer Credit Legal Service WA – PDF 826KB – RTF 1MB
Consumer Electronics Suppliers Association – PDF 292KB – RTF 519KB
Consumers' Federation of Australia – PDF 416KB
CPA Australia – PDF 203KB
Customer Owned Banking Association – PDF 188KB
Daly, Angela and Scardamaglia, Amanda – PDF 281KB – RTF 123KB
Direct Selling Australia – PDF 306KB
eBay – PDF 511KB
Energy and Water Ombudsman NSW – PDF 453KB
Energy and Water Ombudsman Victoria – PDF 1MB
EnergyAustralia – PDF 328KB
Engineers Australia – PDF 817KB – RTF 14MB
Ethnic Communities Council of NSW – PDF 307KB
Federal Chamber of Automotive Industries – PDF 641KB
Financial Counselling Australia – PDF 1MB
Financial Rights Legal Centre – PDF 223KB
Fundraising Institute of Australia – PDF 439KB
Goulburn Valley Community Legal Centre & Loddon Campaspe Community Legal Centre – PDF 241KB
Governance Institute of Australia – PDF 177KB
Groupon – PDF 699KB
Guenther, C and Lyons, M J – PDF 125KB
Housing Industry Association – PDF 342KB
Howlett, Gwendolyn – PDF 131KB – RTF 87KB
Industry Super Australia – PDF 546KB
Insurance Australia Group – PDF 4MB
Insurance Council of Australia – PDF 161KB
Interactive Games and Entertainment Association – PDF 816KB
Justice Connect Not-for-profit Law – PDF 590KB
Justice Connect Referral Service – PDF 228KB
Law Council of Australia – PDF 1MB
Law Council of Australia Legal Practice Section – PDF 218KB
Law Institute Victoria – PDF 2MB
Law Society of NSW – PDF 2MB
Law Society of Western Australia – PDF 248KB
Legal Aid NSW – PDF 810KB
Legal Aid Queensland – PDF 211KB
Legal Services Commission of SA – PDF 4MB
Leigh, Tracy – PDF 121KB
Lemon Laws 4 Aus – PDF 1MB
Lewins, Kate – PDF 205KB
Lewis, Rodney – PDF 677KB
Master Electricians Australia – PDF 278KB
Melbourne Social Equity Institute – PDF 351KB
Melbourne University - Associate Professor Jeannie Paterson & Professor Elise Bant – PDF 539KB
MGA Independent Retailers – PDF 131KB
Middleton, Thomas – PDF 478KB – RTF 283KB
MinterEllison – PDF 471KB
Motor Trade Association of SA – PDF 682KB
Motor Trade Association of WA – PDF 6MB
Motor Traders Association of NSW – PDF 1MB
Motor Trades Association of Australia – PDF 2MB
Motor Trades Association of Queensland – PDF 480KB
Norton Gledhill – PDF 231KB – RTF 856KB
Nottage, Luke – PDF 460KB – RTF 247KB
NSW Business Chamber – PDF 450KB
NSW Small Business Commissioner – PDF 668KB
Obesity Policy Coalition – PDF 276KB
Office of Multicultural Interests WA – PDF 243KB – RTF 85KB
Petre, Clare – PDF 98KB
Product Safety Solutions – PDF 238KB
Prolegis Lawyers – PDF 249KB
Public Fundraising Regulatory Association – PDF 752KB
Public Transport Ombudsman Victoria – PDF 515KB
Queensland Consumers Association – PDF 411KB – RTF 2MB
Queensland Law Society – PDF 478KB – RTF 468KB
Ramsay, Duncan – PDF 133KB – RTF 32KB
Real Estate Institute of New South Wales – PDF 388KB
Red Energy and Lumo Energy – PDF 315KB
Redfern Legal Centre – PDF 384KB
Retail Council – PDF 558KB
Robertson, James – PDF 136KB – RTF 34KB
Robinson, Dr Dorothy L – PDF 458KB – RTF 111KB
Rodan + Fields – PDF 276KB – RTF 1MB
Sales Assured – PDF 612KB – RTF 4MB
Seddon, Nick – PDF 257KB – RTF 114KB
Senior Rights Service – PDF 712KB – RTF 395KB
Shopping Centre Council of Australia – PDF 672KB – RTF 7MB
Sise, Peter – PDF 340KB – RTF 348KB
Slater + Gordon Lawyers – PDF 417KB
Small Business Commissioner SA – PDF 5MB
Small Business Development Corporation – PDF 733KB
Smith, Neil – PDF 474KB
South Australian Independent Retailers – PDF 529KB
South Australian Independent Retailers - Attachment A – PDF 4MB
South Australian Independent Retailers - Attachment B – PDF 643KB
Spier, Hank – PDF 549KB
Standards Australia – PDF 659KB
Strata Community Australia Queensland – PDF 589KB
Suncorp – PDF 281KB
Telecommunications Industry Ombudsman – PDF 740KB
Tony Davis & Associates – PDF 243KB
Uber Australia – PDF 419KB
Uber Australia - Attachment A – PDF 869KB
Unit Owners Association of Queensland Incorporated – PDF 759KB – RTF 3MB
Victorian Automobile Chamber of Commerce – PDF 564KB
Victorian Caravan Parks Association – PDF 501KB
Victorian Small Business Commissioner – PDF 1MB
WEstjustice Western Community Legal Centre – PDF 1MB
Wood, Ashton – PDF 3MB
WorldVentures – PDF 402KB