The Australian Consumer Law Review Interim Report [PDF|DOCX] was released on 14 October 2016. Submissions to the Interim Report closed on 9 December 2016. More than 100 submissions were received in response to the Interim Report, including submissions marked as confidential. The chart below shows the breakdown of submissions received by organisation type (as a percentage).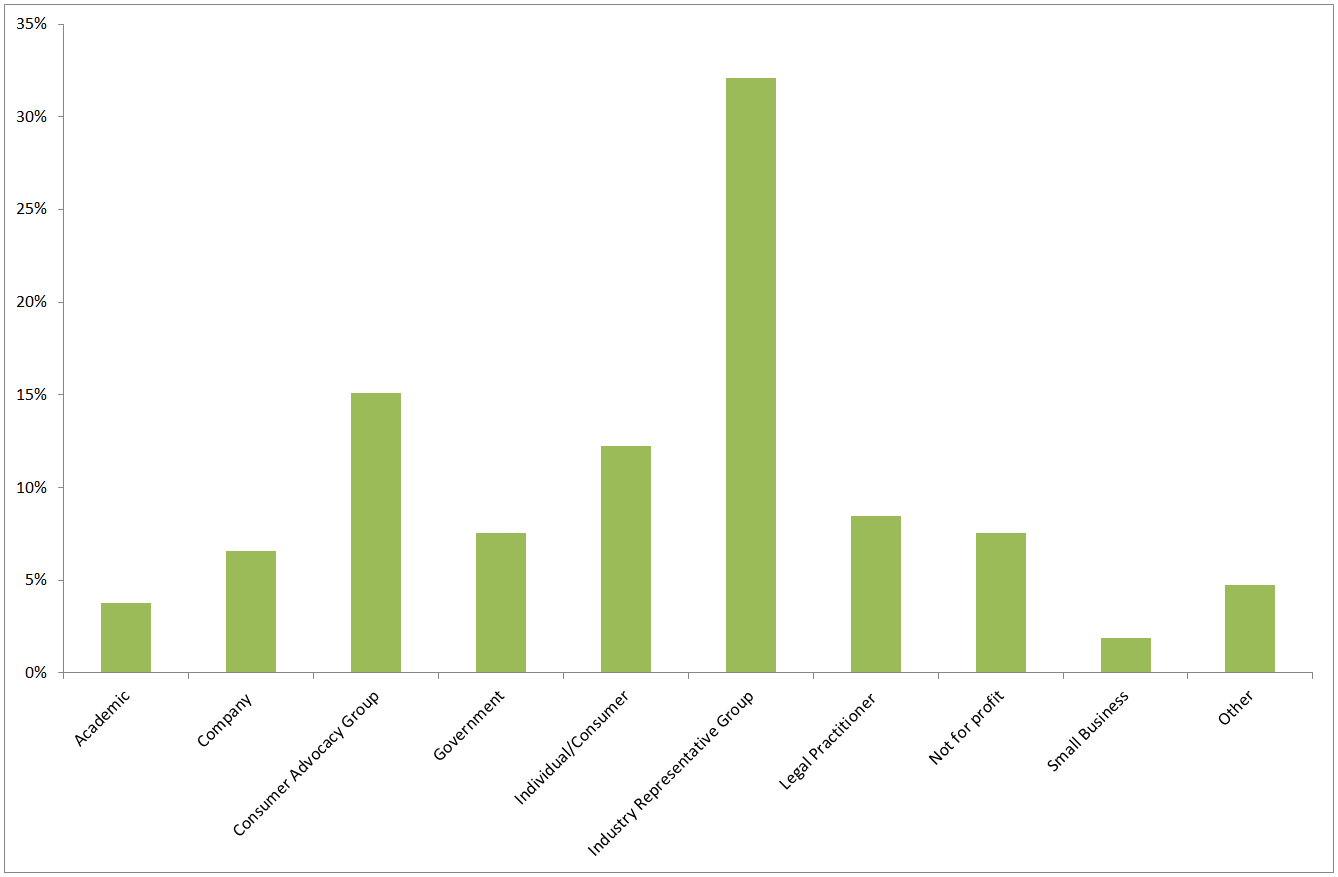 All non-confidential submissions are available below, listed alphabetically by stakeholder. The opinions expressed in the submissions are those of the authors and do not necessarily reflect the views of Consumer Affairs Australia and New Zealand or the ACL Review.
If you are having difficulty with accessing any of the submissions below please contact ACLReview@treasury.gov.au.
Submissions received
Accord Australasia Ltd – PDF 1MB
Allan, Joshua – PDF 209KB
Allens – PDF 757KB
Anonymous 1 – PDF 460KB
Anonymous 2 – DOCX 24KB – PDF 135KB
Anonymous 5 – PDF 24KB
Arnold Bloch Leibler – PDF 748KB
Australian Automobile Association – PDF 2MB
Australian Automotive Aftermarket Association – PDF 11MB
Australian Automotive Dealer Association Ltd – PDF 1MB
Australian Charities and Not-for-profits Commission – PDF 1MB
Australian Communications Consumer Action Network – PDF 785KB
Australian Finance Conference – PDF 122KB
Australian Food and Grocery Council – DOC 950KB – PDF 472KB
Australian Furniture Association – DOCX 14KB – PDF 79KB
Australian Industry Group – PDF 7MB
Australian Institute of Company Directors – PDF 917KB
Australian Labor Party – DOCX 47KB – PDF 527KB
Australian Lottery and Newsagents' Association – PDF 653KB
Australian Retailers Association – PDF 292KB
Australian Small Business and Family Enterprise Ombudsman – PDF 1MB
Australian Toy Association – DOCX 40KB – PDF 691KB
Bebbington, Bruce – DOCX 21KB – PDF 253KB
Business Council of Australia – PDF 447KB
Cancer Council Queensland – PDF 35KB
Caravan and Camping Industry Association NSW – PDF 220KB
Caravan Industry Association of Australia Ltd – DOCX 64KB – PDF 479KB
Chamber of Commerce and Industry Queensland – PDF 101KB
CHOICE – PDF 3MB
CHOICE Attachment A – PDF 23MB
CHOICE Attachment B – PDF 11MB
Communications Alliance Ltd – PDF 3MB
Consult Australia – PDF 276KB
Consumer Action Law Centre – PDF 1MB
Consumer Credit Legal Service WA – PDF 439KB
Consumers SA – DOCX 27KB – PDF 309KB
Cooper Grace Ward – DOCX 58KB – PDF 197KB
COTA SA – PDF 356KB
Daly, Dr Angela and Scardamaglia, Dr Amanda – DOCX 25KB – PDF 260KB
DF Mortimer and Associates – PDF 2MB
Direct Selling Australia – DOCX 93KB – PDF 705KB
Energy and Water Ombudsman NSW – PDF 434KB
Ethnic Communities Council of NSW – PDF 787KB
Federal Chamber of Automotive Industries – PDF 2MB
Financial Rights Legal Centre – PDF 367KB
Friends of the Earth et al – DOCX 121KB – PDF 399KB
Fundraising Institute Australia – DOCX 54KB – PDF 485KB
Gaskell, Professor Nicholas – PDF 602KB
Gordon, Jeremy – PDF 130KB
Governance Institute of Australia – PDF 389KB
Greatorex, Gail – DOCX 24KB – PDF 131KB
Housing Industry Association – PDF 231KB
Industry Training Consultants – DOCX 24KB – PDF 131KB
Institute of Public Accountants – DOCX 822KB – PDF 991KB
Insurance Council of Australia – PDF 401KB
Interactive Games and Entertainment Association – PDF 920KB
Joint submission from indigenous consumer advocates – PDF 703KB
Justice Connect Not-for-profit Law – PDF 3MB
Law Council of Australia – PDF 355KB
Law Council of Australia - SME Business Law, ACL, and NFP Legal Practice and Charities Committees – PDF 355KB
Law Council of Australia Competition and Consumer Committee – PDF 572KB
Law Institute of Victoria – PDF 4MB
Law Society of New South Wales – PDF 4MB
Law Society of Western Australia – PDF 2MB
Legal Aid New South Wales – PDF 959KB
Legal Aid Queensland – PDF 3MB
Lemon Caravans and RVs in Aus – PDF 1MB
Lemon Laws 4 Aus – PDF 3MB
Lewins, Dr Kate - School of Law Murdoch University – PDF 287KB
Master Electricians Australia – PDF 321KB
Mazda Australia Pty Ltd – DOCX 30KB – PDF 354KB
Motor Trades Association of Australia – PDF 3MB
Motor Trades Association of SA – PDF 211KB
Motor Trades Association Queensland – PDF 729KB
Nottage, Dr Luke - University of Sydney – PDF 513KB
Obesity Policy Coalition – DOCX 83KB – PDF 403KB
Office of Multicultural Interests Western Australia – PDF 419KB
Public Fundraising Regulatory Association – PDF 722KB
Queensland Consumers Association – DOCX 61KB – PDF 357KB
Queensland Law Society – PDF 429KB
Redfern Legal Centre – PDF 2MB
Retail Council – PDF 291KB
Robinson, Michael – PDF 2MB
Rodan + Fields – PDF 999KB
Sales Assured Ltd – DOCX 69KB – PDF 417KB
Samsung Washing Machine Recall Consumer Support Group – PDF 3MB
Seddon, Dr Nick – DOCX 26KB – PDF 314KB
Shopping Centre Council of Australia – PDF 2MB
Sise, Peter – DOCX 63KB – PDF 343KB
Slow Food Australia – PDF 114KB
Small Business Development Corporation – PDF 901KB
Spier Consulting - Legal – DOCX 35KB – PDF 192KB
Telecommunications Industry Ombudsman – PDF 2MB
Top End Womens Legal Service Inc – PDF 3MB
Trade Services Council – PDF 306KB
TSO Mechanical – PDF 31KB
TSO Mechanical - Attachment A – PDF 638KB
Victorian Automobile Chamber of Commerce – PDF 2MB
Wilkins, Richard – DOCX 29KB – PDF 299KB